"Capital markets stop panicking when officials start panicking" - Michael Hartnett
Here comes the panic.
Bloomberg just reported that Treasury Secretary Janet Yellen - who was singlehandedly responsible for stoking and restarting the bank crisis on Wednesday which until that day was easing back, with her comments that nobody in charge was even talking about a uniform deposit insurance, let alone working on one - will convene the heads of top US financial regulators Friday morning for a previously unscheduled meeting of the Financial Stability Oversight Council.
The meeting will be closed to the public, the Treasury Department said in a statement. The Treasury didn't say what time the meeting would begin, and it wasn't immediately clear whether the council would issue a statement following the meeting.
The step comes as regulators continue efforts to instill calm in financial markets and among bank depositors following the recent failure of two mid-sized lenders in the US and the near-collapse of banking giant Credit Suisse Group AG before its government-brokered takeover by rival UBS Group AG.
FSOC's members include the heads of the Federal Reserve, the Federal Deposit Insurance Corp. and several other regulatory agencies. It has little legal authority but serves as a coordinating forum. Here is a list of the full members:
The Council's voting members are:
Yesterday we asked "What is the record for shortest interval between a final rate hike and the first rate cut."
Are we about to discover that the answer is "just two days."
Finally, one can't help but wonder if this is the final pre-financial crisis meeting in Yellen's lifetime...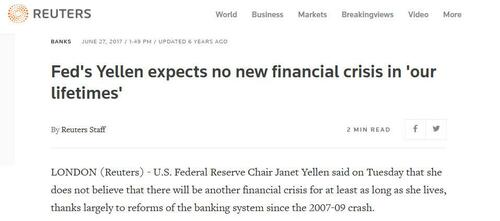 Developing