Regional Bank Crisis Spreads To Big Banks As US Bancorp Tumbles, Stocks Dump Amid Widespread Liquidations
Update (10:50am):  Moments after the FT report which sent WAL shared plunging to $11 (after closing at $30 yesterday), the company rushed out a press release to announce that the FT article is "absolutely false"
Western Alliance Bancorporation ("Western Alliance" or the "Bank") (NYSE: WAL), the holding company for Western Alliance Bank, today issued the following statement in response to an article published by the Financial Times.

The Financial Times' report today that Western Alliance is considering a potential sale of all or part of its business is categorically false in all respects. There is not a single element of the article that is true. Western Alliance is not exploring a sale, nor has it hired an advisor to explore strategic options.

It is shameful and irresponsible that the Financial Times has allowed itself to be used as an instrument of short sellers and as a conduit for spreading false narratives about a financially sound and profitable bank.

We are considering all of our legal options in response to today's article.
For its part, the FT also did an on brand "update" to its article: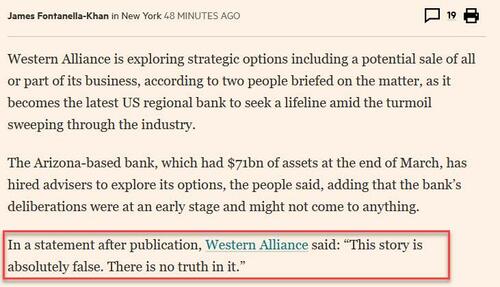 While the stock managed to bounce modestly, rising to $18 before getting halted again, we doubt this will help much as the bank run is now in full swing. After all, how is the thinking supposed to go: "Oh, so the story was false, let me quickly undo that deposit withdrawal i just made"
* * *
Update (10:30am): it's just getting worse and worse:
*PACWEST SHARES HALTED AFTER EXTENDING ROUT TO 52%
*KBW BANK INDEX DOWN AS MUCH AS 5.5% TO LOWEST SINCE SEPT. 2020
*S&P 500 FALLS 1% TO LOWEST INTRADAY SINCE MARCH 30
And now Western Alliance has joined the collapse...
*WESTERN ALLIANCE RESUMES, EXTENDS SLUMP TO 45%, HALTED AGAIN
After an FT report said that it too, like PacWest, is exploring strategic options including a potential sale of all or part of its business. Citing two sources, the FT notes that the bank has hired advisers to explore its options and adds that deliberations are at an early stage, although at this rate, there won't be much to deliberate in a few short hours when the bank is out of all deposits.
* * *
Earlier
Two days ago, on May 2, in the aftermath of the FRC take-under by JPM which Jamie Dimon praised (of course) as a deal proving that the "system works as it should", and predicted that the bank crisis is now almost over, a forecast which the Fed chair reiterated yesterday (just before all hell broke loose), we warned that the "banking crisis is baaaack" for the simple reason that by bailing out FRC, up to $75 billion in Fed reserves would be drained from the system pushing small banks back to their reserve constraint and forcing another market puke and/or Fed bailout.