Update (1530ET): And here is the official press release from the Big Banks, :
Bank of America, Citigroup,. JPMorgan Chase, Wells Fargo, Goldman Sachs, Morgan Stanley, BNY-Mellon, PNC Bank, State Street, Truist and U.S. Bank to make uninsured deposits totaling $30 billion into First Republic Bank

March 16, 2023

Action by the largest U.S. banks reflects their confidence in the country's banking system and helps ensure First Republic has the liquidity to continue serving its customers.

Bank of America, Citigroup, JPMorgan Chase and Wells Fargo announced today they are each making a $5 billion uninsured deposit into First Republic Bank.
Goldman Sachs and Morgan Stanley are each making an uninsured deposit of $2.5 billion
BNY-Mellon, PNC Bank, State Street, Truist and U.S. Bank are each making an uninsured deposit of $1 billion, for a total deposit from the eleven banks of $30 billion. 

This action by America's largest banks reflects their confidence in First Republic and in banks of all sizes, and it demonstrates their overall commitment to helping banks serve their customers and communities.  Regional, midsize and small banks are critical to the health and functioning of our financial system.

Following the receiverships of Silicon Valley Bank and Signature Bank, there were outflows of uninsured deposits at a small number of banks.  America's financial system is among the best in the world, and America's banks – large, midsize and community banks – do an extraordinary job serving the banking needs of their unique customers and communities.  The banking system has strong credit, plenty of liquidity, strong capital and strong profitability. Recent events did nothing to change this.

The actions of America's largest banks reflect their confidence in the country's banking system.  Together, we are deploying our financial strength and liquidity into the larger system, where it is needed the most.  Smaller- and medium-sized banks support their local customers and businesses, create millions of jobs and help uplift communities.  America's larger banks stand united with all banks to support our economy and all of those around us.
And here is the very brief joint statement from the Fed, Treasury and FDIC:
The following statement was released by Secretary of the Treasury Janet L. Yellen, Federal Reserve Board Chair Jerome H. Powell, FDIC Chairman Martin J. Gruenberg and Acting Comptroller of the Currency Michael J. Hsu.

Today, 11 banks announced $30 billion in deposits into First Republic Bank. This show of support by a group of large banks is most welcome, and demonstrates the resilience of the banking system.
This bailout is very similar to the 1998 bailout of LTCM when fourteen banks and brokerage firms invested $3.6 billion in Long-Term Capital Management L.P. (LTCM) to prevent the firm's imminent collapse; the bailout was orchestrated by - but did not involve - Fed funding. That said, LTCM was a hedge fund, and was not a direct competitor.
The bailout is also very different to what happened when Bear Stearns collapsed, as the Big Banks again tried, but refused to save Bear in 2008.
And now they have agreed to inject $30BN in the form of unsecured deposits in First Republic, effectively backstopping the entire capital structure and making the equity money good, because they have explicitly guaranteed that no matter how bad the deposit run is, they will keep the bank funded (using deposits that just a few days ago may have been parked at First Republic).
The next question: why did the banks agree to this? Was it guilt that banks such as SIVB and SBNY collapsed because of their actions/behind the scenes negotiations with regulators? We don't know, but Wall Street is hardly known for being a good Samaritan, and if given the choice, banks would have opted to wait until the bankruptcy and pick choice assets for pennies on the dollar.
As one might expect, First Republic executives are relieved and expressed their thanks:
"We would like to share our deep appreciation for Bank of America, Citigroup, JPMorgan Chase, Wells Fargo, Goldman Sachs, Morgan Stanley, Bank of New York Mellon, PNC Bank, State Street, Truist, and U.S. Bank.

Their collective support strengthens our liquidity position, reflects the ongoing quality of our business, and is a vote of confidence for First Republic and the entire U.S. banking system"
Additionally, as previously announced, First Republic obtained additional liquidity through additional borrowing capacity. It has since drawn on this borrowing capacity following recent industry events.
As of March 15, 2023, the Bank had a cash position of approximately $34 billion, not including the $30 billion of uninsured deposits from Bank of America, Citigroup, JPMorgan Chase, Wells Fargo, Goldman Sachs, Morgan Stanley, Bank of New York Mellon, PNC Bank, State Street, Truist, and U.S. Bank with an initial term of 120 days at market rates.

From March 10 to March 15, 2023, Bank borrowings from the Federal Reserve varied from $20 billion to $109 billion at an overnight rate of 4.75%.

Since close of business on March 9, 2023, the Bank has also increased short-term borrowings from the Federal Home Loan Bank by $10 billion at a rate of 5.09%.
Insured deposits from close of business on March 8, 2023 to close of business on March 15, 2023 have remained stable.
Daily deposit outflows have slowed considerably.
The Bank is focused on reducing its borrowings and evaluating the composition and size of its balance sheet going forward. Consistent with this focus and during this period of recovery, the Bank's Board of Directors has determined to suspend its common stock dividend.
* * *
Update (1300ET): CNBC's David Faber is reporting that 11 of the largest  US banks are planning - as a group - to deposit around $30 billion of their own cash with First Republic.
BREAKING: Group of financial institutions in talks to deposit about $20 billion in First Republic, sources say (via @DavidFaber) https://t.co/lhgceOTnik

— CNBC Now (@CNBCnow) March 16, 2023
Faber updated his reporting with details of what size deposits will be - now around $30 billion in uninsured deposits...
BofA, WFC, JPM, Citi: ~$5 Billion each

Morgan Stanley, and Goldman Sachs: $2.5 Billion

Truist, PNC, US Bancorp, M&T, and Capital One: ~$1bn each
This makes some sense as the 'big banks' have lots of reserves relative to assets... 
So Big Banks are now parking their excess reserves/cash at Small Banks in a costless bailout funded by the Fed. Remember: Big Banks still have lots of reserves left; Small Banks are reserve constrainedhttps://t.co/wa2jVsCRFJ pic.twitter.com/3B6Wr3ROPj

— zerohedge (@zerohedge) March 16, 2023
As a reminder, JPM and the "Big 4" got even bigger recently thanks to small bank deposit run from past week, which they are now returning as deposits back into those troubled banks.
The Wall Street Journal reports, according to sources, that not all banks will contribute the same amount to the pool, but each one that is participating so far will likely put in at least $1 billion.
FRC shares are jumping (and halted) on the headlines...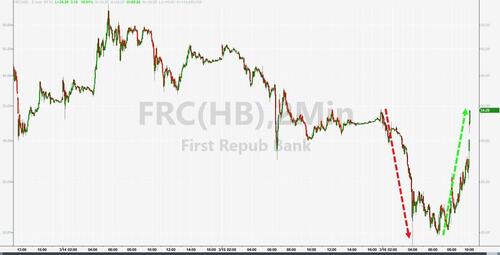 Summing up the last few days actions: BTFP removes all the asset-side risk from bank balance sheets, while the Big Bank deposit pledges remove all liability-side risk.
*  *  *
Update (1230ET): What did they know and when?
As chatter continues to build of some bailout for First Republic Bank this week, after the company's share price has collapsed, The Wall Street Journal reports that top execs at the bank sold millions of dollars of company stock in the last two months... but did not report the sales to SEC.
A gander at the SEC filings show only one small 'insider sale' recently (in November)...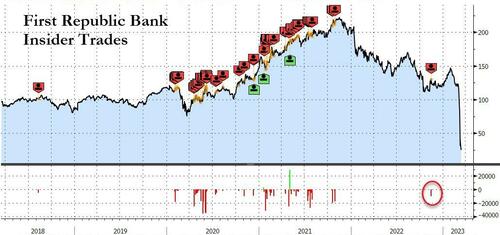 However, executive have been selling for months, as unlike insider sales at most companies, those at First Republic aren't required to be reported to the Securities and Exchange Commission.
Instead, the trades were reported to the Federal Deposit Insurance Corporation.
A handful of banks currently file these forms to the FDIC, which posts them on a website where the documents can be accessed one at a time.
As of Wednesday, First Republic is the only company listed on the S&P 500 index that doesn't file its insider trades with the SEC, a Wall Street Journal analysis shows.
In all, insiders have sold $11.8 million worth of stock so far this year at prices averaging just below $130 a share.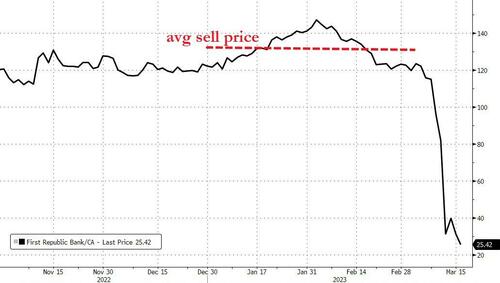 Finally, we would expect a knock at the door if we were them as the DoJ is already looking at insider sales made by Silicon Valley Bank executives a week before that bank's failure,
*  *  *
Update (1100ET): The Wall Street Journal reports that JPMorgan and Morgan Stanley are among a group in talks to bolster First Republic Bank.
According to people familiar with the matter, several large banks are discussing a potential deal with First Republic Bank that could include a sizable capital infusion to shore up the beleaguered lender.
Any deal would need the blessing of regulators and will be driven at least in part by the bank's highly volatile stock.
FRC shares are bouncing hard off the earlier lows (halted numerous times)...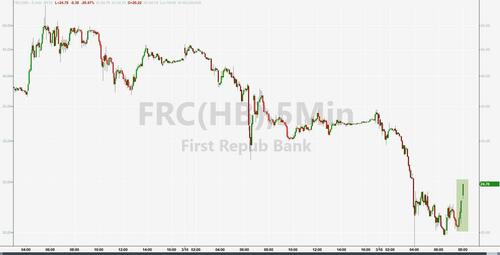 That headline sent the US Majors soaring...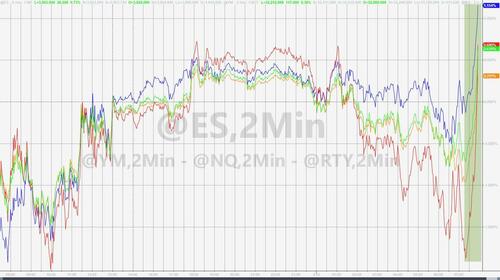 *  *  *
As we detailed earlier, First Republic Bank shares have plunged this morning, extending a week-long rout, as executives consider courting a buyer to prop up the bank in the wake of the collapse of several regional peers.
Bloomberg reports that, according to people familiar with the matter, the San Francisco-based bank is said to be exploring strategic options that include a sale. The firm is also weighing options for shoring up liquidity, some of the people said.
"Normally, a headline of a potential sale would support the stock," Christopher McGratty, an analyst at Keefe, Bruyette and Woods, wrote in a report.

"However, the potentially significant deposit outflows post-SIVB failure likely leave FRC in a tough spot."

"Any potential sale would likely be a tough outcome for existing shareholders, given mark-to-market accounting on loans," McGratty wrote.
FRC shares are down over 30% this morning, back at post-SVB lows...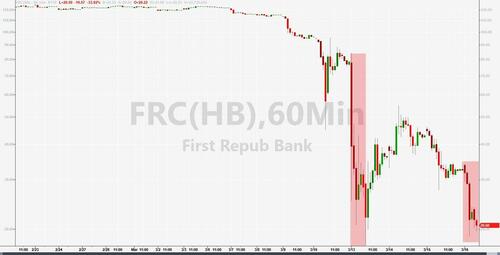 First Republic saw its credit rating was cut to junk by S&P Global Ratings and Fitch Ratings.
"First Republic's options have narrowed following deposit outflow, a sharp share-price decline and recent downgrades from ratings agencies, while a potential sale of the bank could center on the attractive wealth-management business," Herman Chan, an analyst at Bloomberg Intelligence, wrote in a note.
But, but, but President Biden said:
"Americans can rest assured that our banking system is safe.  Your deposits are safe."
It's not over.